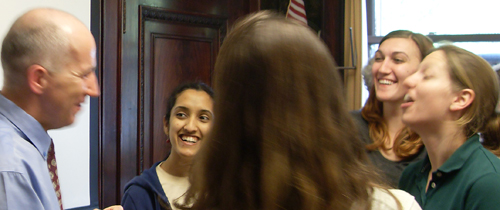 Overview
Our graduate program provides training and research activities in a broad spectrum of Applied Mathematics. The principal areas of research activities represented in the Division of Applied Mathematics are:
ordinary, functional, and partial differential equations
probability, statistics and stochastic systems theory
neuroscience, pattern theory, and computational/mathematical biology
numerical analysis and scientific computation.
Our renowned graduate program provides training and research opportunities in applied mathematics. Through seminars, workshops, coursework, and research projects with faculty, our graduate students develop both a broad working knowledge of applied mathematics and a deep understanding of their selected area of study.
For those who are interested in further exploring the Graduate Program in Applied Mathematics, the Graduate Handbook provides an excellent summary of information outlining the program's requirements, research areas, faculty, and course offerings.  It also provides an overview of commonly raised questions to aid graduate students in navigating the journey that graduate study and degree completion will entail.
Applied Mathematics Graduate Handbook
Important Brown Resources for Grads
More Information
If you require additional information that is not covered in the Handbook or elsewhere on this website, then please visit Brown's Graduate Student Resources webpage or contact:
Director of Graduate Studies, Govind Menon, regarding academic matters.
Student Affairs Manager, Candida Hall, regarding administrative matters relating to the graduate program.
Diversity & Inclusion Statement - Graduate Program
The Division of Applied Mathematics is dedicated to fostering an inclusive climate that nurtures the potential of all students by:
Recognizing students' unique attributes and contributions.
Honoring the myriad of social, cultural, educational, and economic backgrounds that students have.
Encouraging students to be their authentic selves. 
We recognize that the Division could have done more in the past to work towards these goals. We also recognize that systemic inequities have led to a lack of representation among many groups in doctoral programs in the mathematical sciences at-large. We will not perpetuate these inequities in our own Division and are working to promote gender, racial, and ethnic diversity.
Through targeted recruitment and retention strategies, we aim to increase the number of students from underrepresented groups. We believe that students of any age, disability status, ethnicity, gender, nationality, race, religious beliefs, sexual orientation, and socio-economic background should have the resources, opportunities, and support necessary to realize their full potential as an applied mathematician.
Ultimately, our commitment to diversifying the Division represents a commitment to recruiting the most qualified and competitive candidates. We know that fostering a diverse and welcoming community will preserve the Division's excellent academic reputation and ensure its continued success.