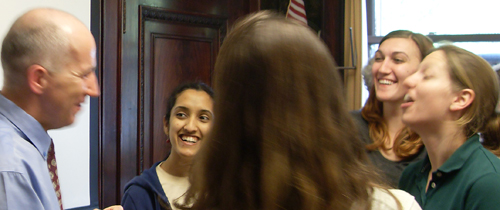 The principal areas of research activities represented in the Division of Applied Mathematics are:
ordinary, functional, and partial differential equations
probability, statistics and stochastic systems theory
neuroscience, pattern theory, and computational/mathematical biology
numerical analysis and scientific computation.
The effort in virtually all the research areas ranges from applied and algorithmic problems to the study of fundamental mathematical questions.  Many of our faculty are engaged in interdisciplinary research collaborations with colleagues here at Brown or elsewhere. This breadth is one of the great strengths of the program and is further reflected in the courses we offer.  Brown offers full financial support for five years, including full summer support for 3 months, and generous health benefits.  Our graduate program focuses on doctoral training, and we accept Masters students only as part of Brown University's 5th year Masters program.