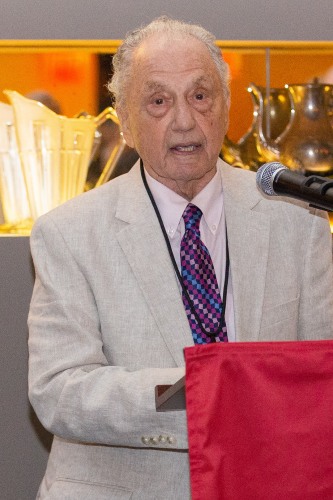 Lawrence Sirovich
Professor Emeritus of Applied Mathematics, Brown University, Visiting Professor, The Rockefeller University, Visiting Scholar, Courant Institute, NYU
Ph.D. Johns Hopkins University (Aeronautical Engineering)
Courant Institute (Applied Mathematics), 1960
Academic Appointments
Research Scientist, Courant Institute, NYU, 1958-1961
Staff, Courant Institute of Mathematical Sciences, NYU, September 1962-September 1963
Assistant Professor, Applied Mathematics, Brown University, September 1963-September 1965
Associate Professor, Applied Mathematics, Brown University, September 1965-September 1967
Professor, Applied Mathematics, Brown University, 1967-1995
Professor Emeritus, Applied Mathematics, Brown University, 1995-present
Professor, Biomathematics, Mt. Sinai School of Medicine, 1995-2011
Adjunct Professor, Rockefeller University, September 1972-present
Director & Founder, Center for Fluid Mechanics, September 1986-July 1991
Visiting Professor, Yale University, 1990
Visiting Professor of Mathematical Physics, Rockefeller University, September 1993-1995
Director, Laboratory of Applied Mathematics. Rockefeller University, September 1993-1995
Director, Laboratory of Applied Mathematics. Mt. Sinai School of Medicine, July 1, 1995-2011
Chairman, Department of Biomathematical Sciences, Mt. Sinai School of Medicine, Nov. 2002-2005
Professor of Biomathematics, Department of Pharmacology and Systems Therapeutics, 2006-2011
Adjunct Professor, Courant Institute, NYU, 2008
Professor of Biomathematics, Emeritus, The Mount Sinai School of Medicine, October 2011
Adjunct Professor, The Rockefeller University, September 2011
Scholar in Residence, Courant Institute, NYU, October 2011
Links
Fulbright Scholar, Universite Libre Bruxelles, November 1961-August 1962
Professeur Associe, Institute Henri Poincare, Universite de Paris, 1968-1968
Professeur d'Echange, Univ. de Paris VI, January-February 1974
Guggenheim Fellow, 1978-1979
Chairman, Frenkiel Prize Committee, 1988, American Institute of Physics
Member, Frenkiel Prize Committee, 1989, American Institute Physics
Byron Short Lecturer, University of Texas, 1991.
Fellowship, The American Physical Society, November 1991.
Otto Laporte Prize Committee, 1992-1994.
Arne Magnus Prize, Colorado State University, 1994
Frontiers in Mathematics Lectureship, Texas A & M, 2002
Perspectives and Problems in Nonlinear Science, A celebratory volume in honor of Lawrence Sirovich, Springer-Verlag New York Inc., 2003.
Fellowship, American Association for the Advancement of Science, 2007.