The Rohn Truell Prize has been set up in 1968 by friends of Truell, a former professor and chair of the Division. It is awarded annually to a member or members of the graduating class concentrating in applied mathematics who achieved special distinction during their studies at Brown. 
Jerome L Stein Memorial Award for Undergraduate Excellence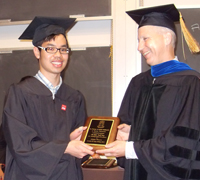 The Jerome L Stein award recognizes undergraduate students in one of the applied mathematics concentrations who show outstanding potential in an interdisciplinary area that involves applied mathematics. The award honors the memory of Jerome L Stein, a former professor in the Applied Mathematics and Economics departments at Brown.
Rohn Truell Prize:  Miriam Gordin
Jerome L. Stein Memorial Award: John Nicklas and Sarah Pugliese 
Rohn Truell Prize:  Aaron Charous and Timothy Sudijono
Jerome L Stein Memorial Award: Edwin Farley and Misha Sohan
Rohn Truell Prize:  Zheng Shi
Jerome L Stein Memorial Award:
Cassandra Cole and Mitchell Wortsman
Rohn Truell Prize:Mansheej Paul and Daniel Xiang
Jerome L Stein Memorial Award: Uthsav Chitra and Shiying Luo
Rohn Truell Prize: Julia Romanski
Jerome L Stein Memorial Award: Jake Soloff and Angelia Wang
Rohn Truell Prize: Dilum Aluthge
Jerome L Stein Memorial Award: Mara Freilich and Phllip Denys
Rohn Truell Prize: Chukiat Phonsom
Jerome L Stein Memorial Award: Katrina Kardassakis and Maxwell Sherman
Rohn Truell Prize: Daniel Gitelman and Do Young Yoon
Jerome L Stein Memorial Award: Koushiki Bose
Brown University Distinguished Senior Thesis Prize:  John Thickstun
Senior Orator: Tanayott Thaweethai
Rohn Truell Prize:  Nadejda Drenska and Sameer Iyer